Identifying and attracting the right candidate in supply chain, manufacturing, or logistics takes more than a match at a functional level: In executive search and recruitment, the personal profile of the candidate and the cultural match with the company is just as, if not more, important. This applies for permanent positions as well as interim management. Supply chain, manufacturing and logistics executive search at its best for The Netherlands, Europe and Asia.
We work in a small, dedicated team of entrepreneurial and dynamic individuals. Over the years, we have established a large and constantly expanding network within the logistics and supply chain industry worldwide.
Our approach as supply chain executive searcher
Our approach can be described as personal, professional and project-based. We pursue a long-term vision, both for our candidates (advice on career development) and for our clients (advice on securing the right match in accordance with the organisational strategy). By working together with our clients, we make every search an unique process. In all our projects we harbour a sincere interest in, and understanding of, development of personal careers and the larger goals of the organisation.
Previous matches
The following are typical executive assignments Inspired-Search has performed in the past:
Global Supply Chain Director, Directeur Logistics Solutions Development, Directeur Transport Europa, Operations Manager, Logistiek Manager, Algemeen Manager Supply Chain Planning Europa, Managing Director, Business Development Manager/Director, Plant/Production Manager, VP Supply Chain, VP Operations, Head of European Planning.
Overview propositions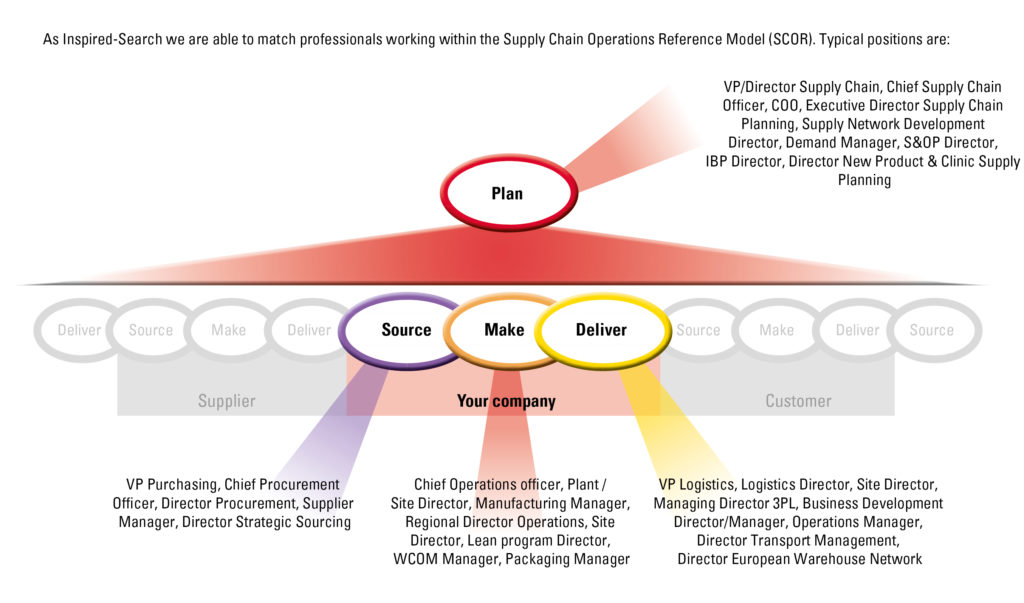 PLAN
VP/Director Supply Chain, Chief Supply Chain Officier, COO, Executive Director Supply Chain Planning, Supply Network Development Director, Demand Manager, S&OP Director, IBP Director, Director New Product & Clinic Supply Planning
SOURCE
VP Purchasing, Chief Procurement Officer, Director Procurement, Supplier Manager, Director Strategic Sourcing
MAKE
Chier Operations Officer, Plant/Site Director, Manufacturing Manager, Regional Director Operations, Site Director, Lean Program Director, WCOM Manager, Packaging Manager
DELIVER
VP Logistics, Logistics Director, Site Director, Managing Director 3PL, Business Development Director/Manager, Operations Manager, Director Transport Management, Director European Warehouse Network
Executive Search Process
See below a schematic flow of the executive search process for logistics, supply chain, procurement and manufacturing with a timeline indication, which also can be adjusted to the needs of the client or assignment: