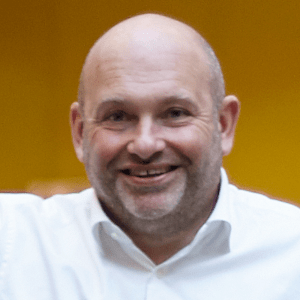 21

David Boulanger
Arla Foods
Executive Vice President & CSCO
David Boulanger joined European dairy cooperative Arla Foods in the middle of the Covid pandemic. Just when Covid appeared to be behind us, war broke out in Ukraine. And prior to that there were Brexit negotiations. The lurch from one crisis to another appears to be the new norm and supply chain executives now have to deal with the continuum of unknowns.
What attracted to you to supply chain management?
"I studied general engineering at Ecole Civil des Mines de Paris and had absolutely no plan to work in the food industry or in supply chain. However, after graduating, I completely by chance met some leaders working for Mars and was intrigued by their advanced thoughts on supply chain. They offered me three missions to complete within two years which, if successful, would lead to a managerial position. The job also paid well so I had little to lose. I've been in the food industry ever since. I started as a factory planner and moved around several positions and countries for Mars for 10 years. Its supply chain was very advanced and it was definitely a company where I learnt a lot. When the two Mars brother-owners retired and as the culture of the company began to significantly change, I decided to leave and joined Danone's Biscuits division taking positions in different functions within supply chain and manufacturing. In 2007, Danone took the strategic decision to sell the activity to Kraft/Mondelez, so I joined this company but shortly afterwards, returned to Danone, this time in the Netherlands running the supply chain for its recently acquired Nutricia Medical nutrition business. I was later appointed Head of global supply chain for the total Specialised Nutrition business, my last position in Danone.
"It was in the middle of the Covid pandemic that Arla invited me to come and run its entire supply chain. Although it was a very hectic period to move to a new company, I decided to do it. I was attracted by Arla, its fantastic products, its people, its values and culture."
You took up in this position in the middle of the pandemic. Running the business at that moment must have been a baptism of fire?
"I was very fortunate because Arla was in a strong position both growing and delivering significant efficiency improvements thanks to the transformation program – Calcium, which started in 2016. In addition, the organization demonstrated its agility, navigating through the covid pandemic very efficiently, adapting very quickly to the new market reality and shifting channels to meet demand. New digital ways of working were also being adopted which facilitated the speed of decision making. Arla's supply chain clearly demonstrated superior resilience and agility during those times, enabling the business to outperform our peers. I was also privileged to inherit a very strong team and join an experienced and professional executive team. So, although we were going through an unprecedented period, I could rely on the organization allowing myself to focus on my primary objective: learn about the business as quickly as possible. The other good thing about crisis times is that they align the organization on very simple and straightforward objectives and greatly accelerate collaboration. So, although I was spending the majority of my time "online" – behind a screen, I probably met more people in my first 100 days than if I had joined in normal times. That was actually very beneficial.
For Arla, 2020 marked the end of our five-year strategic business cycle. So, as an executive committee, we were also on the verge of defining our new five-year business strategy. For me this was a fantastic opportunity because within the first six months of joining we were fully reviewing all parts of our business and defining our direction for the next five years. At the end of October we began to cascade our new strategy – Future 26 – across the organization"