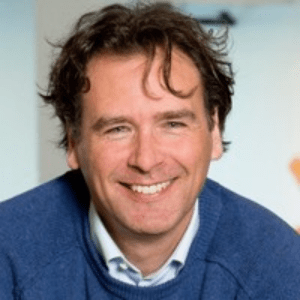 28

Joost Donkers
Perfetti van Melle
Chief Operations & Chief Supply Chain Officier
When he was younger he wanted to become a vet, but today Joost Donkers feels right at home as Director
Supply Chain Business Group Ingredients at FrieslandCampina – the role in which he was also voted Supply
Chain Professional 2018. His motto: try to simplify things. "In that context, we've thought up 'four times
zero': zero accidents, zero quality issues, zero missed orders and zero losses. It's a nice slogan that's easy for
employees to remember."
SCM interview
FrieslandCampina processes milk into milk proteins, whey proteins, fats and lactose. The Business Group Ingredients sells these products to the pharmaceutical industry and food manufacturers who use them to make things like specialized nutritional products and supplements for humans and animals.The raw materials are used to produce baby formula, including under the company's own label: Friso. They are also found in consumer products such as coffee creamers, bakery products and dairy drinks.The sales offices, research departments and manufacturing facilities (in the Netherlands, Germany, the USA, Brazil, Egypt, NewZealand and Asia) are grouped together in clusters: single ingredients, baby food, encapsulated ingredients and a joint venture with DFE Pharma.The four manufacturing directors report directly to Joost Donk-ers. Besides them, his team comprises the director of sales and operations planning, distribution and outsourcing, and the performance excellence director. Donkers: "We've also grouped together other people who have similar knowledge and expertise, such as HR, finance, purchasing and quality assurance. They report to their own section head, but they also have a reporting line to me. That greatly improves information sharing. I'm not someone who manages at detail level, and I believe strongly in a model based on indirect reports."
Each of the companies in your business group used to have its own supply chain. Why has that changed?
"We discovered that we weren't the best-in-class. We closed that10-to-15-year gap in the space of four years by bringing together people with the right passion and a shared goal. My award was recognition of that, so we've shared it among all the 120 man-agers in my supply chain. It was a challenge, because although our factories are spread around the world they are closely linked by the product flows. If something goes wrong in one factory, it affects a lot of others too. Our network is also pretty full, so we don't have much room to divert production. Plus we're in a growth market with annual investment of more than €150 million. It was a huge help that the then-boss was a strong advocate of business-group-oriented supply chains. The manufacturing directors initially found it hard to adapt to the new way of work-ing, but they've now got used to managing a functional rather than hierarchical organization."
How will you make the next leap?
"We're on the cusp of making choices about groundbreaking technologies in an industry which has done things the same way for the past 60 to 100 years. Some of our powder machines are half a century old and still gas-powered, so it makes sense to invest now. Drying milk and whey is an energy-intensive and labour-intensive process. Our people have some impressive ideas about energy recovery and the use of electricity and geothermal energy instead of gas, which we are developing with external partners. Our Borculo factory has switched to using biogas from the local waste treatment plant and pyrolysis oil. And we're currently talking to a customer about supplying a product in liquid form in order to miss out the drying process completely. Alginate is recovered from our waste water for reuse. To be honest, I wish I could have made these investments earlier and in smaller doses, because there's now a lot going on all at once. Our network is so full that we have to tackle one factory at a time, because they are out of the running for weeks and sometimes months. We provide all major pharmaceutical companies with medical nutrition for hospitals and products for premature babies. Lives are at risk, so failure to supply is not an option."