De juiste professional of executive op de juiste positie in productie, inkoop, logistiek of supply chain. Werving en selectie van de beste kandidaten voor permanente en interim executive posities vereist een goed doordacht identificatieproces. Niet alleen een functionele match, maar ook een match op cultureel en persoonlijk niveau zijn belangrijke voorwaarden voor een succesvolle en duurzame invulling van een vacature.
Inspired-Search hanteert een constructieve en persoonlijke aanpak bij recruitment en headhunting. Een klein team van zeer ervaren consultants focust op een duurzame match tussen kandidaten en bedrijven voor posities in procurement, supply chain, manufacturing en logistics. Tijdens het executive search proces staan uiteraard de belangen van de opdrachtgever voorop, maar tegelijkertijd wordt er ook meegedacht met de kandidaat: wat voor carrière ambieert hij of zij? Concreet: Inspired-Search denkt kritisch mee en adviseert in de hele fase van werving, selectie tot plaatsing. Ontwikkeling van mens én organisatie staan centraal, omdat we er bij Inspired-Search van overtuigd zijn dat alleen vanuit openheid en betrokkenheid de perfecte match ontstaat waar alle partijen van profiteren.
Inspired-Search kan ook u helpen bij het vinden van de perfecte match. Headhunting en recruitment kan op permanente en interim-management basis.  Meer weten over executive search, veelal via confidentiële opdrachten, of interim-management voor supply chain, manufacturing, procurement en logistiek? Neem contact op met Edwin Tuyn of Oskar Verkamman.
Eerdere matches
In de afgelopen jaren heeft het team van Inspired-Search tal van geschikte kandidaten gevonden voor permanente directieposities én interim-management bij bedrijven in Nederland, Europa en Azië.
Inspired-Search werkt samen met familiebedrijven, multinationals, private equity, start-ups en scale-ups die actief zijn in onder andere retail, e-commerce, high-tech electronics, consumer electronics, FMCG, food, life science, chemicals, CPG, automotive, (zware) industrie, fashion/apparel, logistieke dienstverlening, 3PL, transport en aan supply chain gerelateerde consulting en ICT.
Overzicht propositie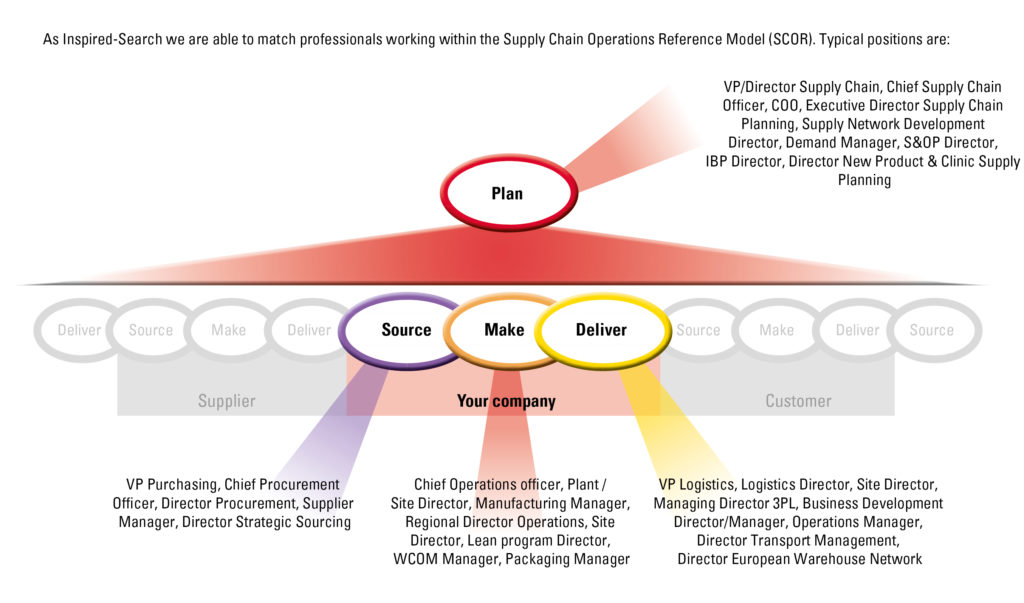 PLAN
VP/Director Supply Chain, Chief Supply Chain Officier, COO, Executive Director Supply Chain Planning, Supply Network Development Director, Demand Manager, S&OP Director, IBP Director, Director New Product & Clinic Supply Planning
SOURCE
VP Purchasing, Chief Procurement Officer, Director Procurement, Supplier Manager, Director Strategic Sourcing
MAKE
Chier Operations Officer, Plant/Site Director, Manufacturing Manager, Regional Director Operations, Site Director, Lean Program Director, WCOM Manager, Packaging Manager
DELIVER
VP Logistics, Logistics Director, Site Director, Managing Director 3PL, Business Development Director/Manager, Operations Manager, Director Transport Management, Director European Warehouse Network
Werkwijze